For questions:
Contact the reception desk.
Opinions about us
Rodzinny wypad na weekend do tego hotelu. Apartament duży, wygodny, świetny widok z okna na zatokę. Śniadania do godziny 11, świetny wybór sokow, własne wypieki. Hotel położony idealnie, 100 metrów od bulwaru nad morzem. Obsługa bardzo miła i bardzo pomocna. Mieliśmy wrażenie bycia pod dobra opieka i chciano o nas dbać......Czytaj więcej

TRIPADVISOR.COM

Idealna lokalizacja, pokoje bardzo przyjemne i czyste, śniadania urozmaicone i smaczne-szczególnie obfitość soków wyciskanych była zaskakująca.
.....Czytaj więcej

OPINIA Z BOOKING.COM

Hotel położony w świetnym miejscu blisko morza z dala od hałasu ulicznego, przemiła obsługa, przepyszne śniadania.
.....Czytaj więcej

OPINIA Z BOOKING.COM

Bardzo dobry hotel. Przemiła obsługa. Smaczna kuchnia. Położenie nad samym morzem rewelacyjne. Bardzo dziękuję za zorganizowanie rodzinnego przyjęcia......Czytaj więcej

OPINIA Z TROJMIASTO.PL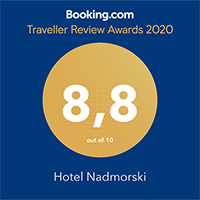 PROMO KOD

"PROMO-CODE" manual"
Visit the www.nadmorski.pl/hotel-en and follow with the manual:
choose arrival and departure date;
in window 'Promo Code': put your PROMO-CODE / click BOOKING ONLINE;
choose ROOM / click SHOW RATES;
choose offer with the best price / click BOOK NOW;
enter booker's info / click CONTINUE;
optional select extras / click CONTINUE;
choose payment method / click BOOK NOW.
Your reservation shall be confirmed once you complete the actions below.
Need a hand? We are here to help?
RECEPTION +48 58 667 77 77 or recepcja@nadmorski.pl