For questions:
Contact the reception desk.
Opinions about us
Rodzinny wypad. Apartament duży, wygodny, świetny widok z okna na zatokę. Śniadania do godziny 11, świetny wybór sokow, własne wypieki. Hotel położony idealnie, 100 metrów od bulwaru nad morzem. Mieliśmy wrażenie bycia pod dobra opieka i chciano o nas dbać......Czytaj więcej

TRIPADVISOR.COM

Idealna lokalizacja, pokoje bardzo przyjemne i czyste, śniadania urozmaicone i smaczne-szczególnie obfitość soków wyciskanych była zaskakująca.
.....Czytaj więcej

OPINIA Z BOOKING.COM

Hotel położony w świetnym miejscu blisko morza z dala od hałasu ulicznego, przemiła obsługa, przepyszne śniadania.
.....Czytaj więcej

OPINIA Z BOOKING.COM

Bardzo dobry hotel. Przemiła obsługa. Smaczna kuchnia. Położenie nad samym morzem rewelacyjne. Bardzo dziękuję za zorganizowanie rodzinnego przyjęcia......Czytaj więcej

OPINIA Z TROJMIASTO.PL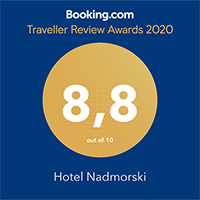 About the Nadmorski Hotel
This is a first-rate hotel which is charmingly located at the seaside (the Gdańsk Bay), close to Bulwar Nadmorski, which is a favourite walking and recreational place and one of the biggest tourist attractions in Gdynia.
The hotel has been appreciated mainly thanks to its good customer relations and attractive special offers. The hotel offers top quality customer service, which is confirmed by ISO and HACCAP certificates.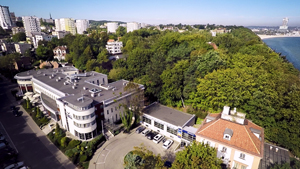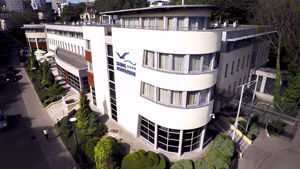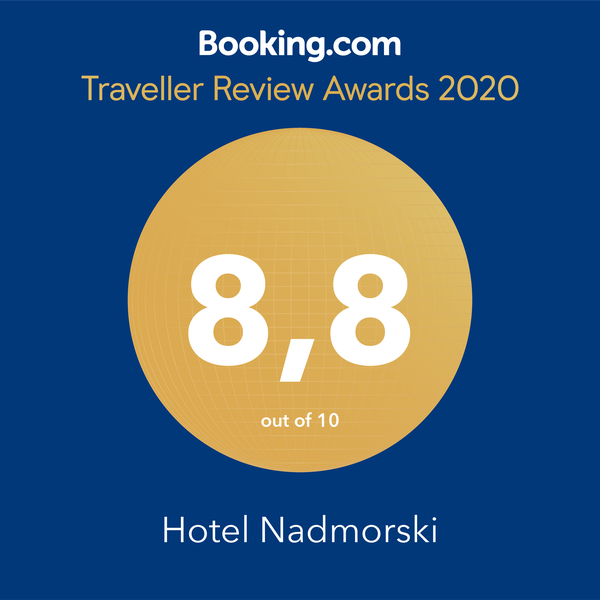 Comfortable rooms are an ideal place for rest. Excellent hotel cuisine offers great taste experience. A well-equipped conference centre makes the hotel an ideal place for business meetings and individual stay.
Thanks to the vicinity of the sea and its peaceful surroundings, the hotel has a quiet and exceptional atmosphere, which enables hotel guests to recuperate fast and rest even after arduous work.
Thanks to the vicinity of the city centre, hotel guests may get to know city attractions and will be satisfied with the stay at the Hotel.

The Nadmorski Hotel is animal-friendly. All well-behaved pets are welcomed.
All guests who come to us by car, we offer a monitored, underground garage ensuring full safety. There are also many parking spaces at your disposal: Free parking spaces in the hotel car park - roundabout (number of spaces limited), possibility of using the hotel's underground garage or large city * parking at the hotel (* charges according to the price list: https: // www. zdiz.gdynia.pl/parkowanie/).
---

We support a BUSINESS POSITIVE attitude. Nothing is impossible for us. We always advise and talk openly. We suggest ideas. Our team has great experience in cooperation with business entities. Many companies and institutions have taken advantage of our services. Check what we can offer to you and your company. >>

We support a STAY POSITIVE attitude. We are located in the exceptional city, right at the seaside. We have an excellent access to many attractions and activities. The Nadmorski Hotel is an excellent place to recuperate and rest. Here, you will be able to gain new positive energy, take care of your body and mind. See what we offer to you, your family and friends. >>

We love and support our city and a GDYNIA POSITIVE attitude. We support cultural and sports events. We offer our services to participants, organisers and contestants. There is a lot of things going on in Gdynia. At the Nadmorski Hotel, we support the initiatives of the city and we are proud to take care of the positive image of Gdynia. See more >>
---
See our current special offers.