For questions:
Contact the reception desk.
Opinions about us
Rodzinny wypad. Apartament duży, wygodny, świetny widok z okna na zatokę. Śniadania do godziny 11, świetny wybór sokow, własne wypieki. Hotel położony idealnie, 100 metrów od bulwaru nad morzem. Mieliśmy wrażenie bycia pod dobra opieka i chciano o nas dbać......Czytaj więcej

TRIPADVISOR.COM

Idealna lokalizacja, pokoje bardzo przyjemne i czyste, śniadania urozmaicone i smaczne-szczególnie obfitość soków wyciskanych była zaskakująca.
.....Czytaj więcej

OPINIA Z BOOKING.COM

Hotel położony w świetnym miejscu blisko morza z dala od hałasu ulicznego, przemiła obsługa, przepyszne śniadania.
.....Czytaj więcej

OPINIA Z BOOKING.COM

Bardzo dobry hotel. Przemiła obsługa. Smaczna kuchnia. Położenie nad samym morzem rewelacyjne. Bardzo dziękuję za zorganizowanie rodzinnego przyjęcia......Czytaj więcej

OPINIA Z TROJMIASTO.PL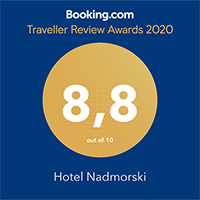 Company Policy
HADEX S.A. holds a well-established market position as a provider of high-quality services. It is one of the few hotels in the Tri-City to offer, beside hotel services, full-service solutions for events and incentives, which today already set the Company's offering apart from competitive hotel offerings.
The Hotel is located on a coastal bluff over the Bay of Gda?sk, right beside the beach. Its location on the seaside and in proximity to recreational grounds: the port basin, the waterside, tennis courts, provide us with the opportunity to cater well for the needs of our Clients.
Meeting the expectations of our Clients is the purpose of our actions which we realize through:
continuous improvement of the management system,
customized approach to the Client,
modern equipment,
systematic improvement in staff awareness and skills,
compliance with the existing legal and other requirements,
reduction of the negative environmental impact.
We will make every effort to ensure high standard of service. In our operations we comply with the Best Practices in hygiene and production processes and we take care to ensure health safety in the storage of ingredients and food preparation.
The strategic objective of HADEX S.A. is to create an establishment that would combine the functions of a hotel and a sanatorium-and-spa resort with high standard of services and would be renowned in the European market thanks to:
having built a strong, well-recognized brand,
improvements and expansion of the services offered,
safe environmental policies with regard to waste management.
Our aim is to meet the requirements of our Clients at all times and to anticipate their future expectations.
Our hotel staff know this policy and are involved in its implementation.
The Management Board of the company takes full responsibility for compliance with the policy and the requirements of the following standards: ISO 9001:2000, ISO 14001:2004, HACCP Codex Alimentarius.